Slingshot
Fun slingshot for target shooting, rediscover your inner child!
Need a slingshot? Visit our shop to buy a precision slingshot. Wicked Store sells a range of slingshots and accessories, as well as other important products for target shooting enthusiasts and pest controllers.
What is the range of a slingshot?
The slingshot is an ancient weapon made of wood, elastic and a strip of leather. It was used to hurl stones at birds. Over time, the slingshot has improved significantly, as have blowpipes, catapults and Barnett slingshots. Slingshots can be used for leisure shooting, fishing, hunting or competition.
The range of a slingshot depends on your age and strength. If you're young, you may lack the strength to hit a target at long range. Your slingshot experience and the ammunition you use can also influence the range of your slingshot.
A professional hunter can hit targets over 100 m away. Most users can have the best effective range, from 4 to 7 metres.
At Wicked Store, we offer a wide range of slingshots at low prices. Whether you're a keen recreational shooter, professional hunter or just want to hunt pests, you'll find the right slingshot for you in our shop. Our slingshots are sold at affordable prices. Depending on your profile, you can choose :
a luxury slingshot,
a fun slingshot,
a Pro Hunt slingshot...
The prices of our slingshots vary according to their category. The luxury model is more comfortable and has good accuracy. This category of slingshot is ideal if you want an ergonomic target-shooting weapon.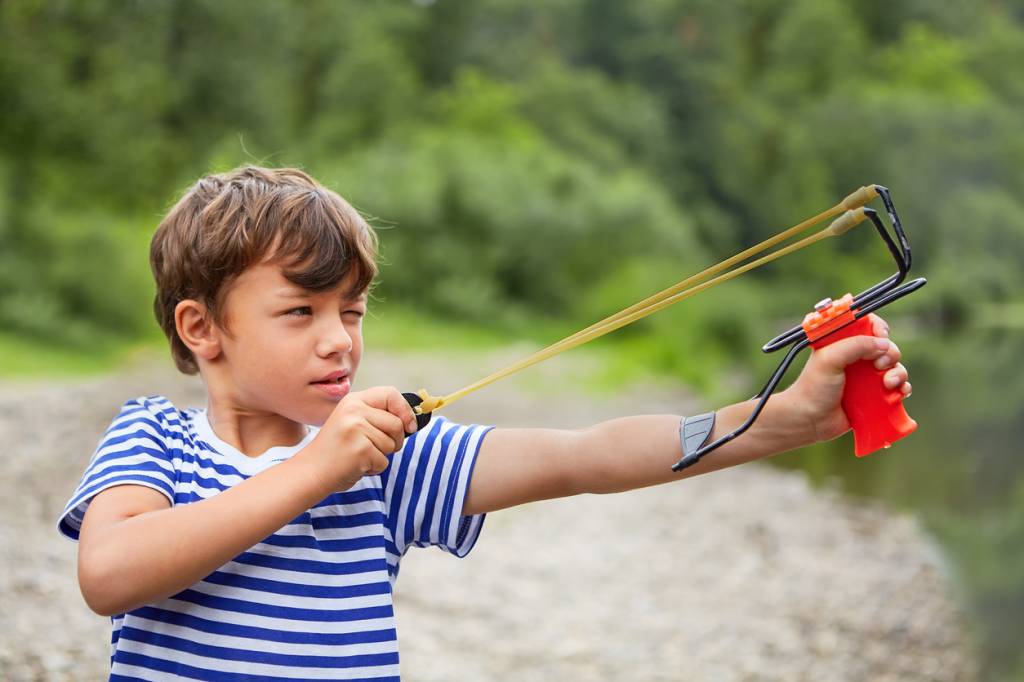 Which projectile should I use for a slingshot?
Once you've bought your slingshot, the next thing to look for is the projectile. To choose the right ammunition, take into account the use you intend to make of the weapon: leisure shooting, competition, hunting, fishing, etc.
Glass beads are one of the classic projectiles commonly used in slingshots. These days, ammunition is made from heavier materials to guarantee power and accuracy: stainless steel, metal, lead, etc.
Buy your slingshot balls at low prices in our online shop. You can choose between steel and rubber bullets. For steel ammunition, we have bags of 50 and packs of 100. Our rubber balls are available in bags and boxes of 100. The prices of our ammunition are among the most affordable on the market.
Steel bullets are more suitable for precision and long range. To ensure you have sufficient stock, choose a pack of 100 bullets. With Wicked Store, you can buy your products at a low price and benefit from a delivery time of 24 to 48 hours.
Can you hunt with a slingshot?
Slingshot hunting is a relatively recent phenomenon. It gained in popularity with the advent of high-powered, precision weapons. Slingshot hunting is much more common in Third World countries. The slingshot can be used to hunt sparrows and rabbits. The slingshot is the preferred weapon for this type of hunting because of its low price and cheaper ammunition.
High-powered slingshots can pierce a coconut at close range. However, it is more difficult to get close enough to a wild animal to shoot it. Although slingshots fitted with laser sights are more powerful and accurate, slingshot hunting is less suitable for professional hunters.
Wicked Store sells essential accessories for recreational shooting. As well as our low-cost slingshots, we stock replacement rubber bands and other products. At Wicked Store, we prefer NXG and Umarex slingshots to ensure the quality of our products. So come and buy your slingshot at the best price in our shop and receive your product as soon as possible.