Pellets for Airgun
The choice of ammunition is as important as the choice of weapon. There are different types of pellet, depending on the shape of the pellet head and its weight. Whether you're using a pellet gun or a pellet rifle for recreational shooting, you'll be able to choose from flat, pointed, round and different calibre pellets. At Wicked Store, we stock a wide range of flat, pointed and round pellets in both 4.5mm and 5.5mm calibre. You'll be able to find the pellet that suits you best, at a very attractive price.
Flat-head pellet, perfect for precise shooting every time
Flat-head pellet is one of the ammunition types that can be used for both leisure shooting and international competitions. This is the lead that gives you excellent shooting accuracy. So don't hesitate to choose a flat-head pellet for your 4.5 mm calibre pellet rifle! It can also be used with air pistols.
At Wicked Store we stock flat pellets for both 4.5mm and 5.5mm rifles. For a pellet rifle, we stock 4.5mm pellets from leading brands such as Gamo, H&N, Rifle, Umarex and Browning at the best prices. This pellet is perfect for shooting at cardboard targets and in closed environments.
Pointed pellet, the ideal projectile for leisure shooting
Intended more for leisure shooting, pointed-head pellet is one of the ammunition types with a high penetration coefficient. Ideal for shooting at non-standard targets, this product is perfect for use on bottles or cans.
Pointed-head pellets also offer good accuracy for shooting between 20 and 35 metres. At Wicked Store, we have a range of pointy-head pellets available at very attractive prices. You can choose 4.5 mm point pellets from Browning or Powair. A box generally contains 500 pellets. So you'll have enough for your shooting session. Don't hesitate to order one of our products from stock for fast, tracked delivery!
The Gamo brand also produces shot with pointed heads. Gamo 4.5mm Pro Magnum point-head pellets offer excellent performance. Offered at the best price in our shop, Gamo pellets have a high level of penetration and accuracy. The most demanding shooters can therefore achieve their maximum performance. Supplied in a box of 250, this product is perfectly suited to outdoor shooting.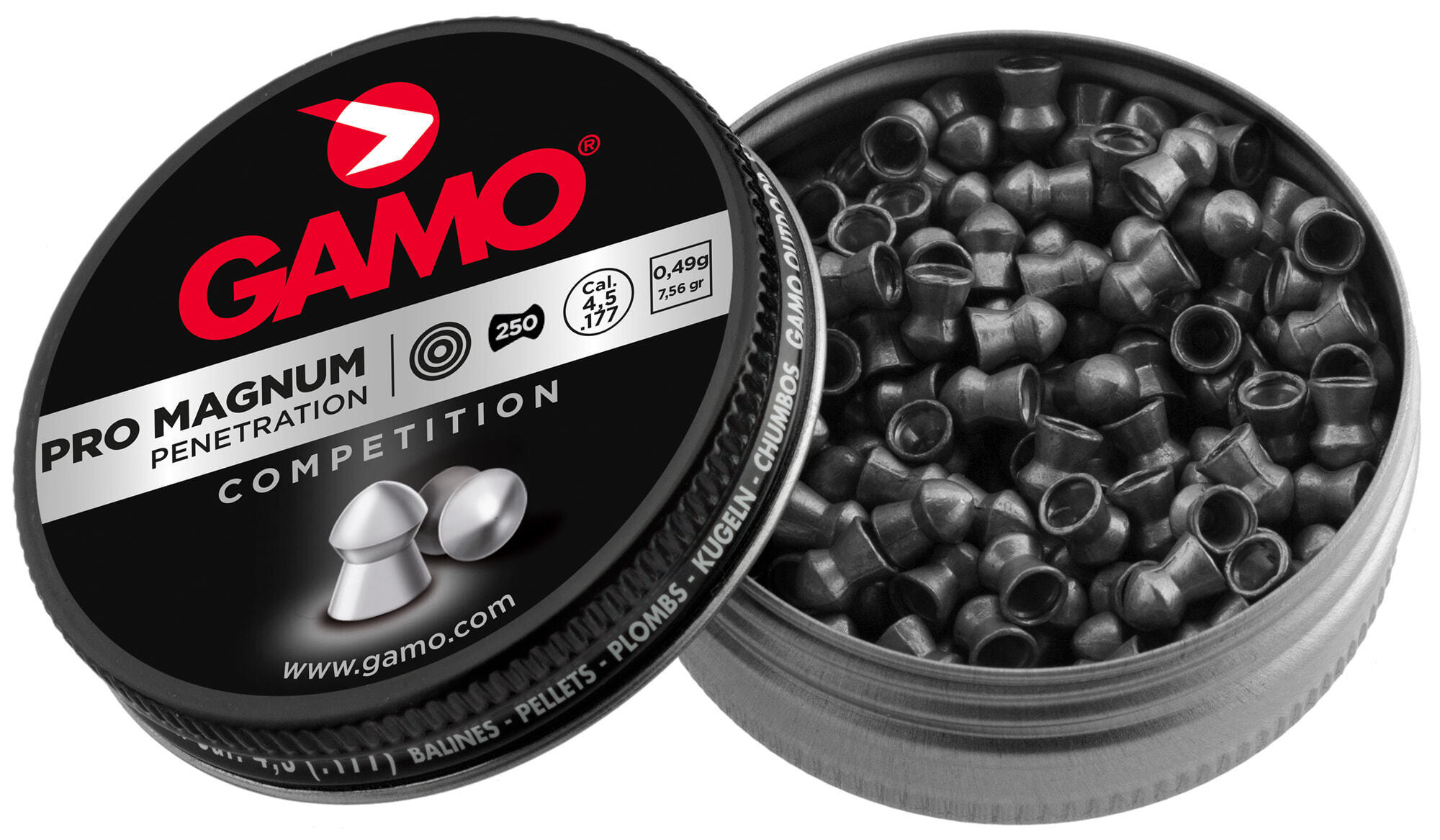 Round-head pellet for long-distance shooting
Round-head pellets are also suitable for loading into air pistols and pellet rifles. This lead is ideal for long-distance precision shooting. Round-head pellets are also ideal for high-power or PCP rifles.
For optimum accuracy, choose top-quality shot. That's why we have some excellent quality products in stock. Powair's 4.5mm round-head pellets will have a big impact on your target. So don't hesitate to choose the box of 500 pellets available in our stock at an affordable price!
Wicked Store stocks a wide range of ammunition for pellet rifles and pistols, whatever you need your pellets for (dropping a target, passing through a target, etc.). We offer the best brands in pellet ammunition (Gamo, Browning, etc.). Buy your pellets now at the best price for your pistol or leisure rifle and receive your product as soon as possible.